RAY MAGIC QUAD
Acoustical radiant drop ceiling panels.
Ray Magic QUAD can help you create commercial spaces that combine the best acoustics with extraordinary aesthetics and where people can feel healthier, learn better and work more productively.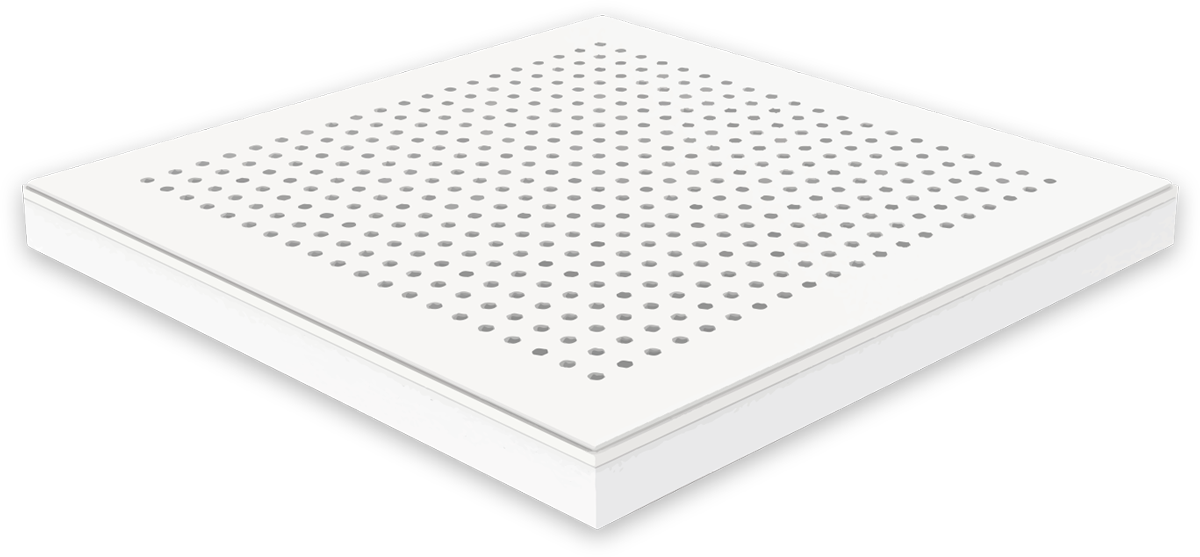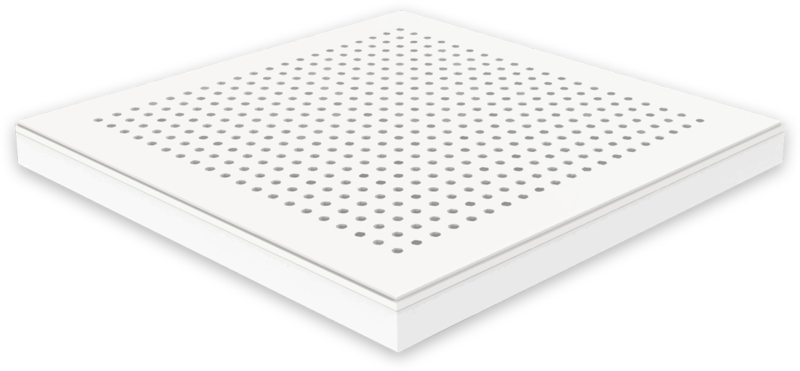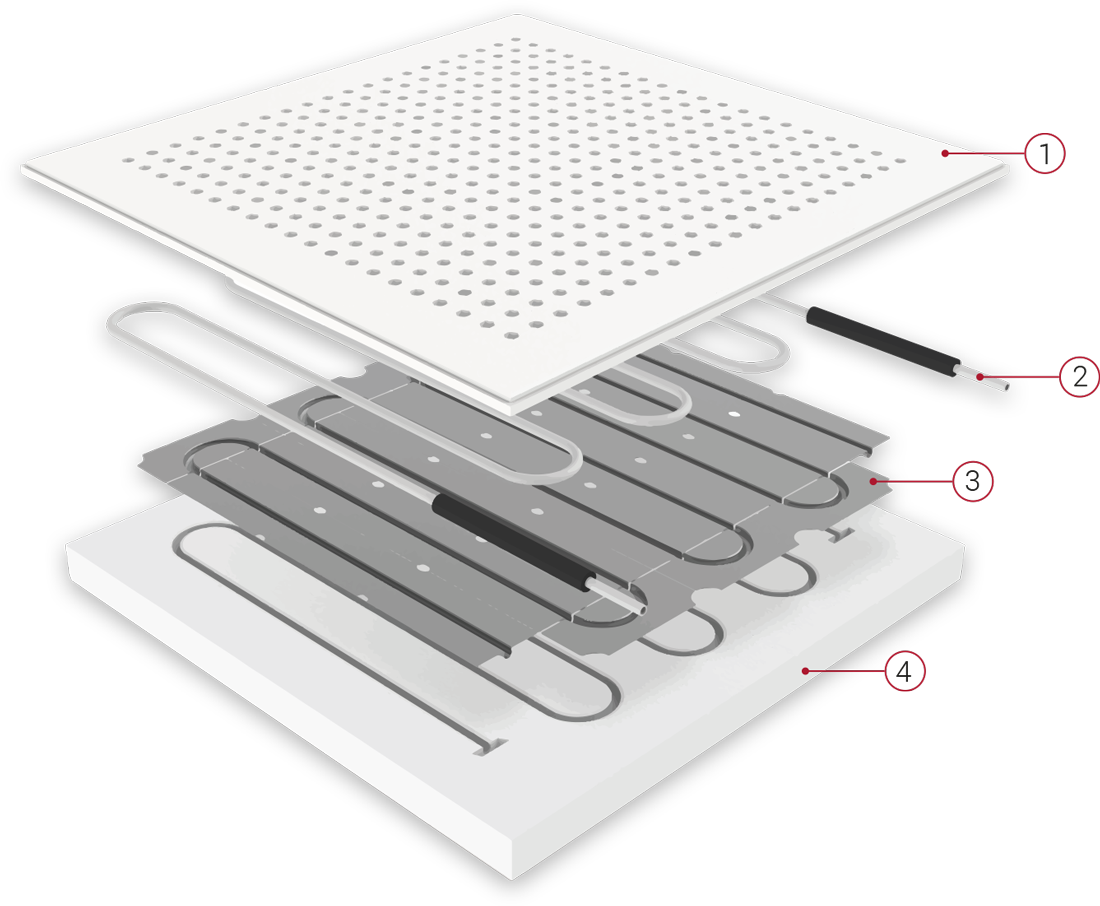 Ray Magic QUAD is a modular radiant panel specifically designed for acoustical drop ceiling (T bar ceiling system) typical of the commercial sector.
Designed upon two decades of experience and technical know-how on radiant ceiling, built upon the revolutionary Ray Magic technology (patent pending).
Ray Magic Quad is the ideal solution for healthier and more productive environments and any spaces with demanding acoustic and thermal requirements, such as:
hospitals
offices
schools
meeting rooms
lobbies and waiting areas
atriums
restaurants
retails
commercial open spaces
Ray Magic Quad are available in different finishes (24″ x 24″ x 1/2″ gypsum tiles), regular drywall tiles and acoustical tiles (perforated gypsum panels), both with visible edges or concealed.
The panels are quick and simple to install, and allows for easy access to the plenum.
1. 24″ x 24″ x 1/2″ Gyptone® gypsum tile
2. Hydronic radiant circuit
3. Aluminum heat transfer plates
4. Pre-formed EPS substrate
Differt finishing (24″ x 24″ x 1/2″ gypsum tiles Gyptone® by CertainTeed) with different acoustical patterns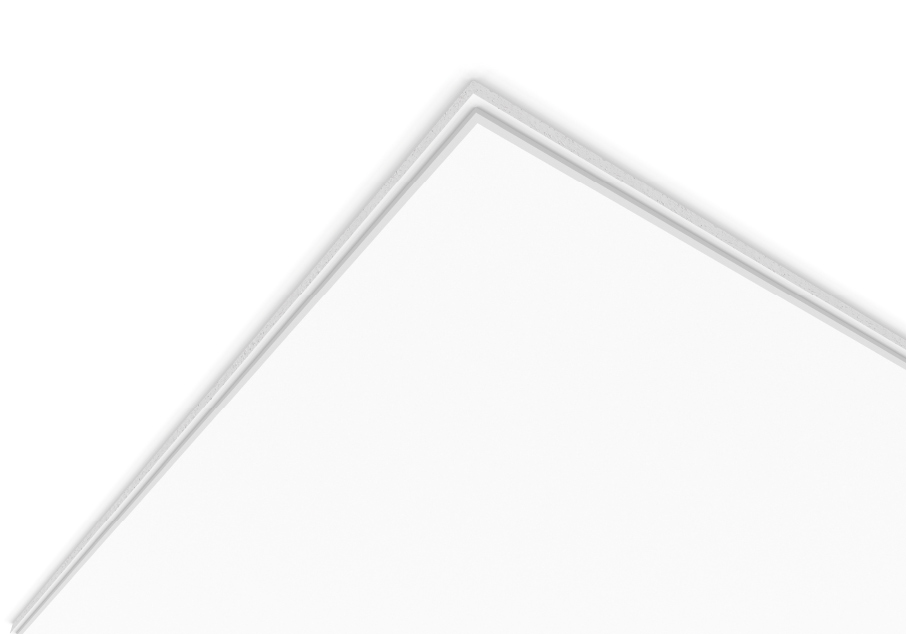 Base 31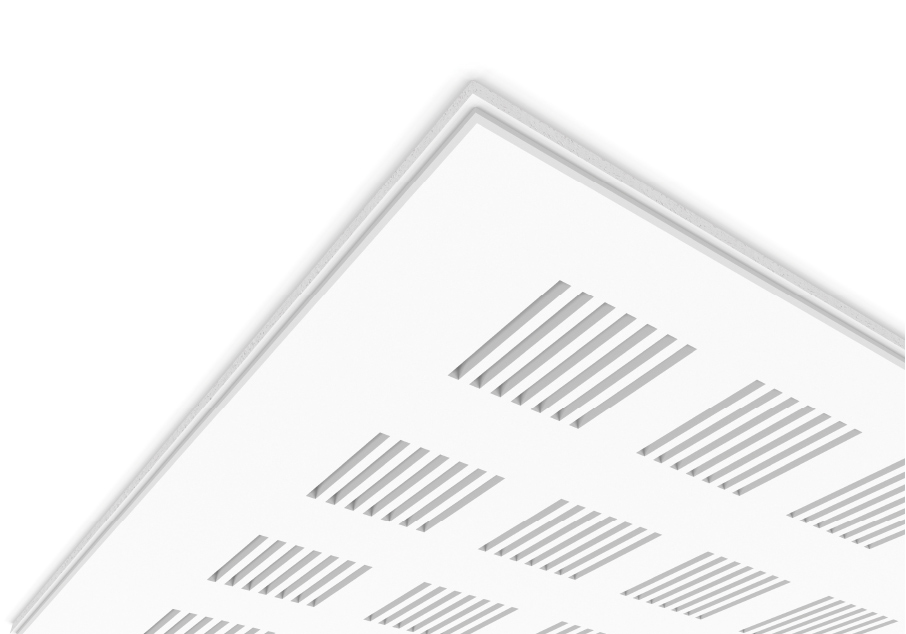 Line 4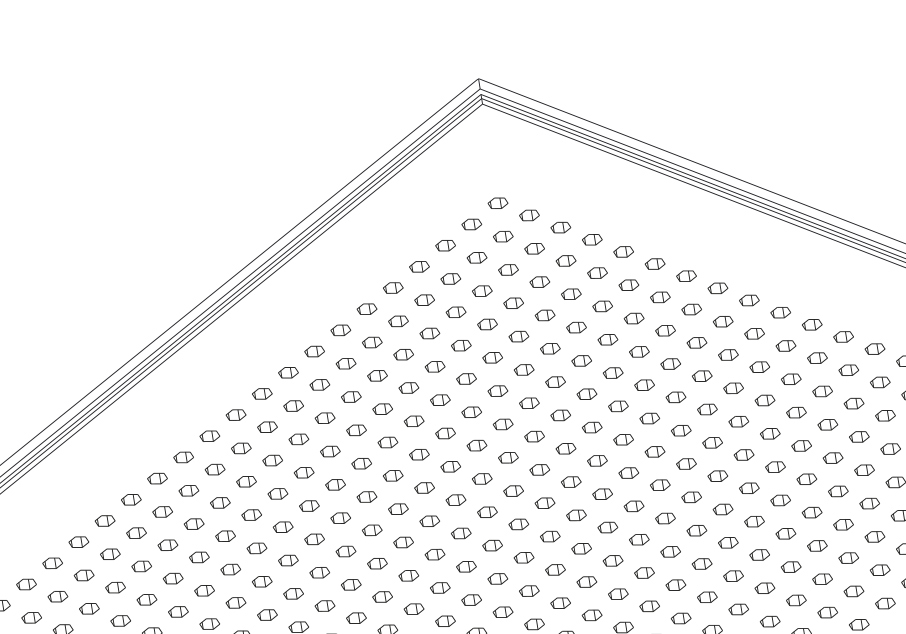 Sixto 60
Pannello radiante 60×60 cm ispezionabile fonoassorbente
Ray Magic quad fonoassorbente è il pannello radiante per riscaldamento e raffrescamento pensato per i controsoffitti ispezionabili. Ha una base gesso rivestita con finitura opaca satinata ed è caratterizzato da una serie di forature eleganti e regolari.
Trova applicazione in ambienti che richiedono un elevato benessere acustico e che sono esteticamente curati come ospedali, uffici, ristoranti, etc. La preverniciatura della lastra fonoassorbente, fatta al livello superficiale, conferisce una finitura estetica gradevole.
L'assorbimento acustico varia in funzione della scelta delle diverse combinazioni di foratura disponibili.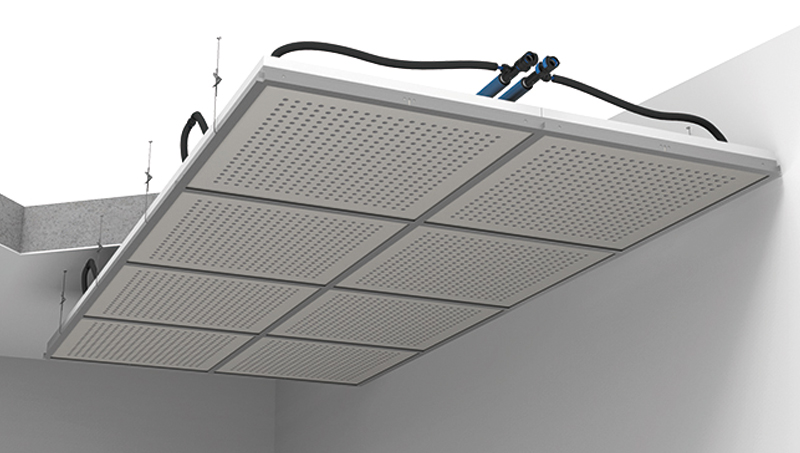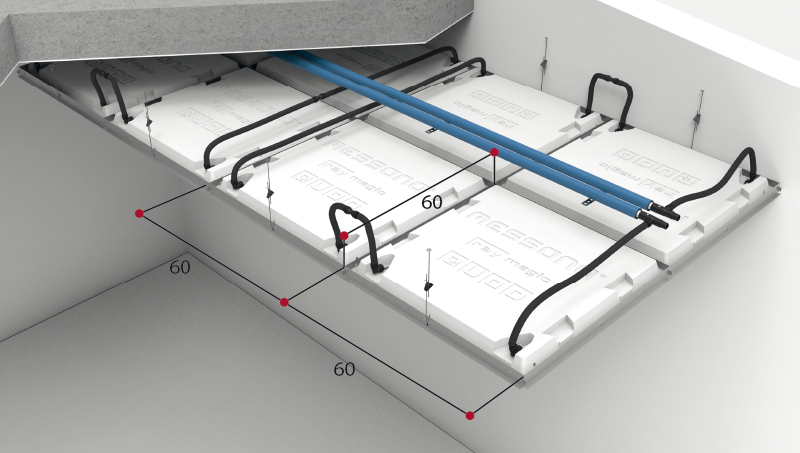 I pannelli ispezionabili, disponibili in diverse bordature perimetrali, vengono sospesi mediante struttura metallica portante a "T" rovesciata spessore 0,4 mm. Nella tipologia a vista viene utilizzato il profilo da 24 mm o 15 mm mentre per quella seminascosta viene utilizzato quello da 24/15. Il fissaggio al solaio avviene utilizzando appositi tasselli con sospensioni regolabili costituite da doppio pendino (Ø 4 mm) regolabile tramite molla.
L'interasse dei pendini è di 1200 mm e la distanza massima tra i pendini e pareti non deve superare i 600 mm. La finitura perimentrale viene realizzata con cornici solidarizzate meccanicamente alle pareti mediante idonei fissaggi posti a distanza di 300 mm. I pannelli radianti vanno in appoggio alla struttura; gli stessi in caso di necessità possono essere rimossi facilmente e movimentati liberamente lateralmente mantenendo saldi i collegamenti idraulici garantendo
così la completa ispezionabilità per un agevole manutenzione in tutta la parte sovrastante il controsoffitto.

CARATTERISTICHE
Classe reazione al fuoco

Euroclasse A2-S1, D0

Resistenza all'umidità – RH70

Riflessione alla luce – 72%

Dimensioni modulo: 60x60x5,25 cm

Conforme alla norma EN14190

Spessore lastra gesso: 12,5 mm

Peso: 10 kg/m2

Percentuale foratura: 18%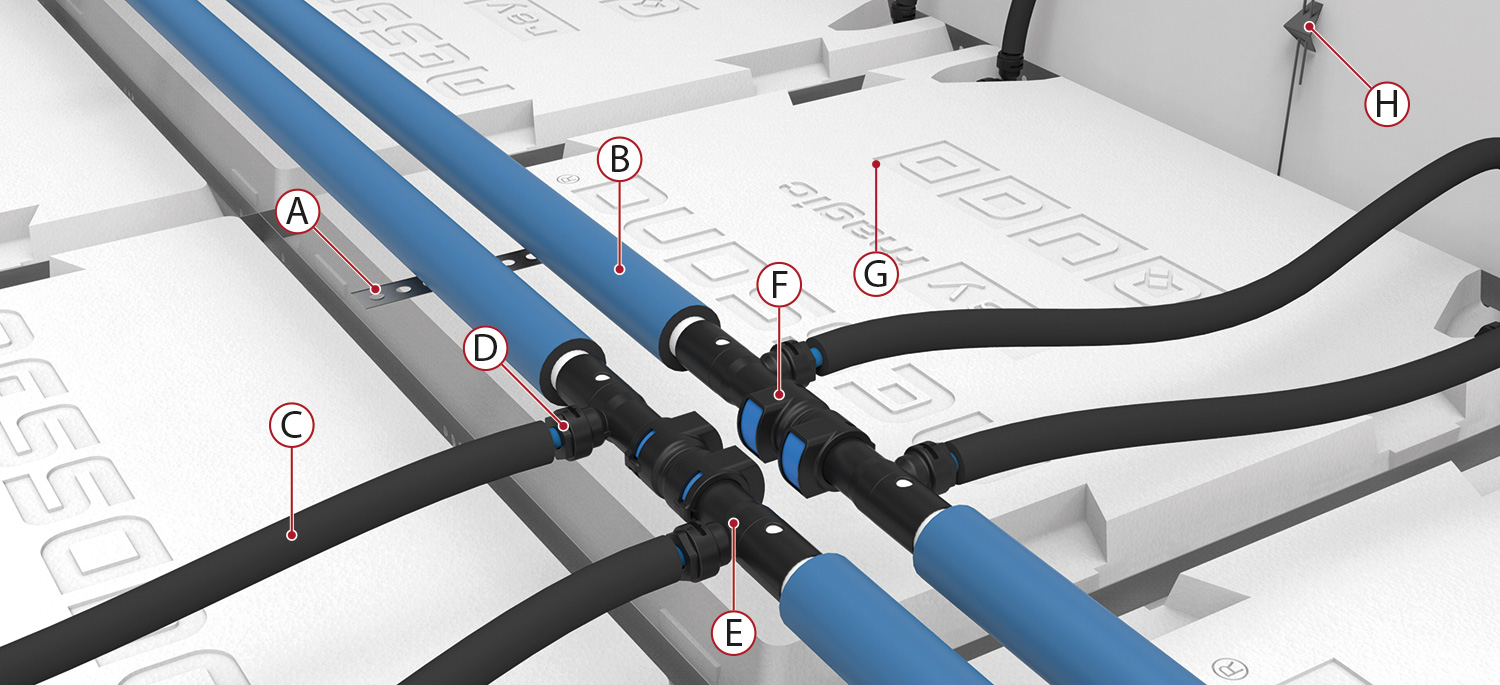 LEGENDA
A. Staffa fissaggio dorsale
B. Dorsale Ray Magic
C. Coibentazione tubo triflex
D. Tubo triflex
E. Giunto triplo
F. Giunto Ray Magic
G. Isolamento pannello Ray Magic Quad
H. Pendini per orditura
Realizzazione di controsoffitti ispezionabili su struttura a vista e seminascosta
I pannelli ispezionabili 60×60 cm Ray Magic quad si installano su struttura metallica a T rovesciata.
I pannelli con bordo A vengono posati su struttura a vista da 24 mm o da 15 mm, mentre quelli con bordo E24/E15 su struttura seminascosta da 24/15 mm. L'utilizzo della struttura da 15 mm permette di ridurre l'impatto visivo della struttura, ottenendo un miglior risultato estetico.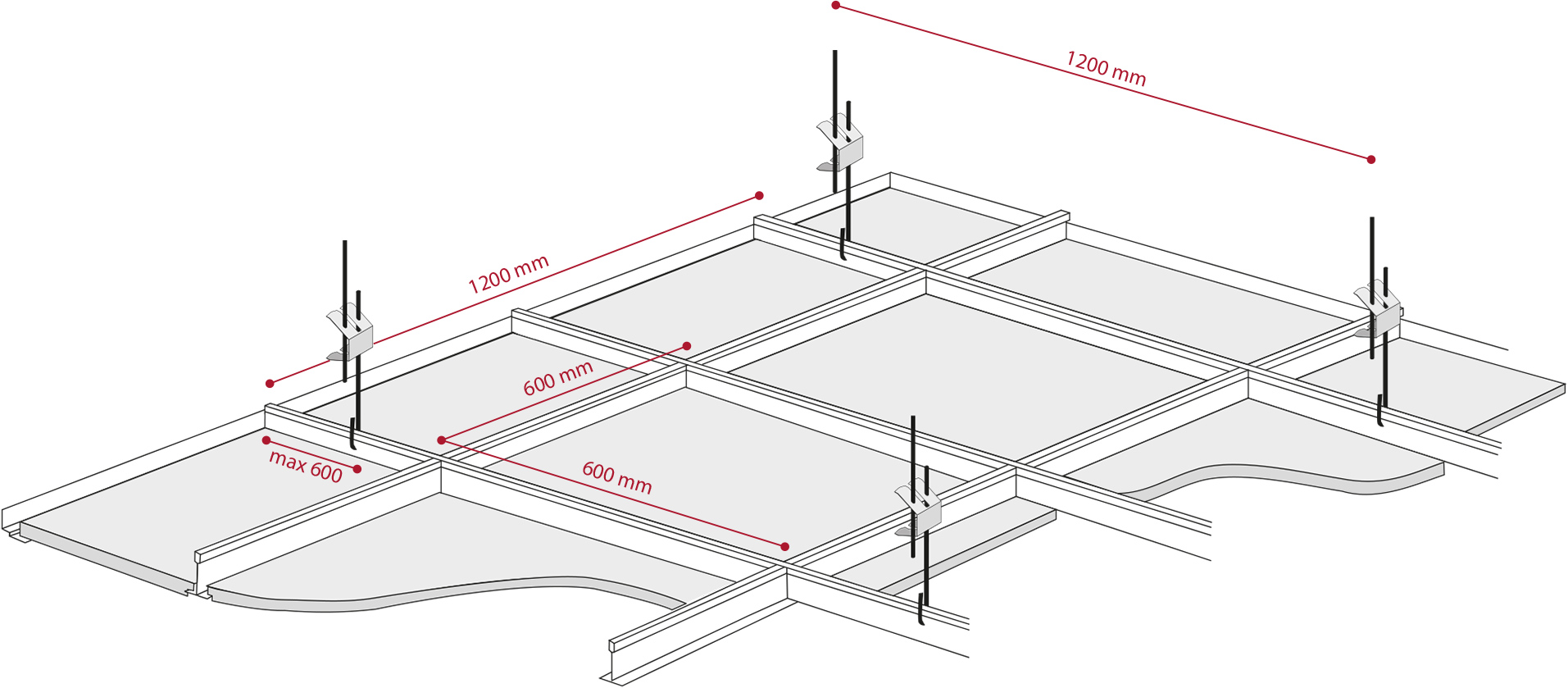 FASI DI MONTAGGIO
1. Fissare alla soletta, mediante appositi tasselli, le sospensioni regolabili, costituite da pendini Ø 4 mm collegati tra loro tramite doppia molla.
2. La distanza tra i pendini è di 1200 mm, mentre la distanza massima tra i pendini e le pareti del locale non deve superare i 600 mm.
3. Stabilire la quota precisa di abbassamento del controsoffitto.
4. Fissare alle pareti le cornici perimetrali a L o a doppia L (nel caso in cui si desideri realizzare uno scuretto perimetrale), sulle quali si appoggerà la struttura scelta.
5. Appendere alle sospensioni i profili portanti, posti ad un interasse di 1200 mm.
6. Innestare nei portanti i profili trasversali da 1200 e da 600 mm, in modo da formare un reticolo modulare 600 x 600 mm.
7. Nel reticolo così costituito posizionare i pannelli, semplicemente appoggiandoli.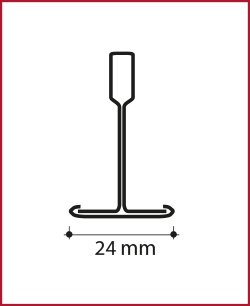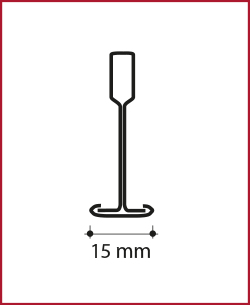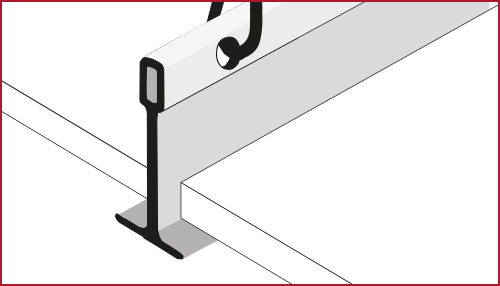 Pannelli con bordo A per struttura a vista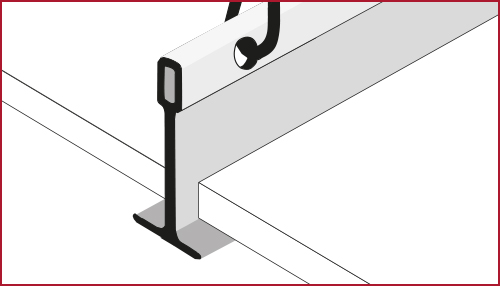 Pannelli con bordo E24 per struttura a seminascosta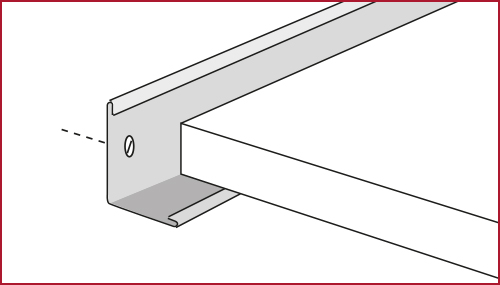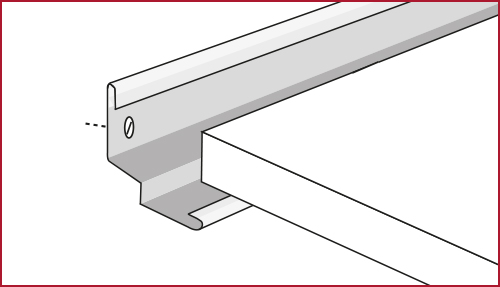 Profilo perimetrale a doppia L