RAY MAGIC
The radiant panel with the backbone
Ray Magic, the radiant ceiling panel that turned the HVAC industry DOWNSIDE UP!
Ray Magic is an hydronic radiant gypsum panel that is mounted on the ceiling instead of regular drywall. The ceiling of the house covered with Ray Magic radiant panels becomes an active radiant surface. In the winter the ceiling panels radiate heat and maintain always a comfortable uniform temperature. In the summer the Ray Magic panels absorb heat from the environment and comfortably cool down the building.
A Ray Magic radiant cooling and heating system does not interfere with the beauty of a well-designed building…  the radiant panels are invisible and powerful!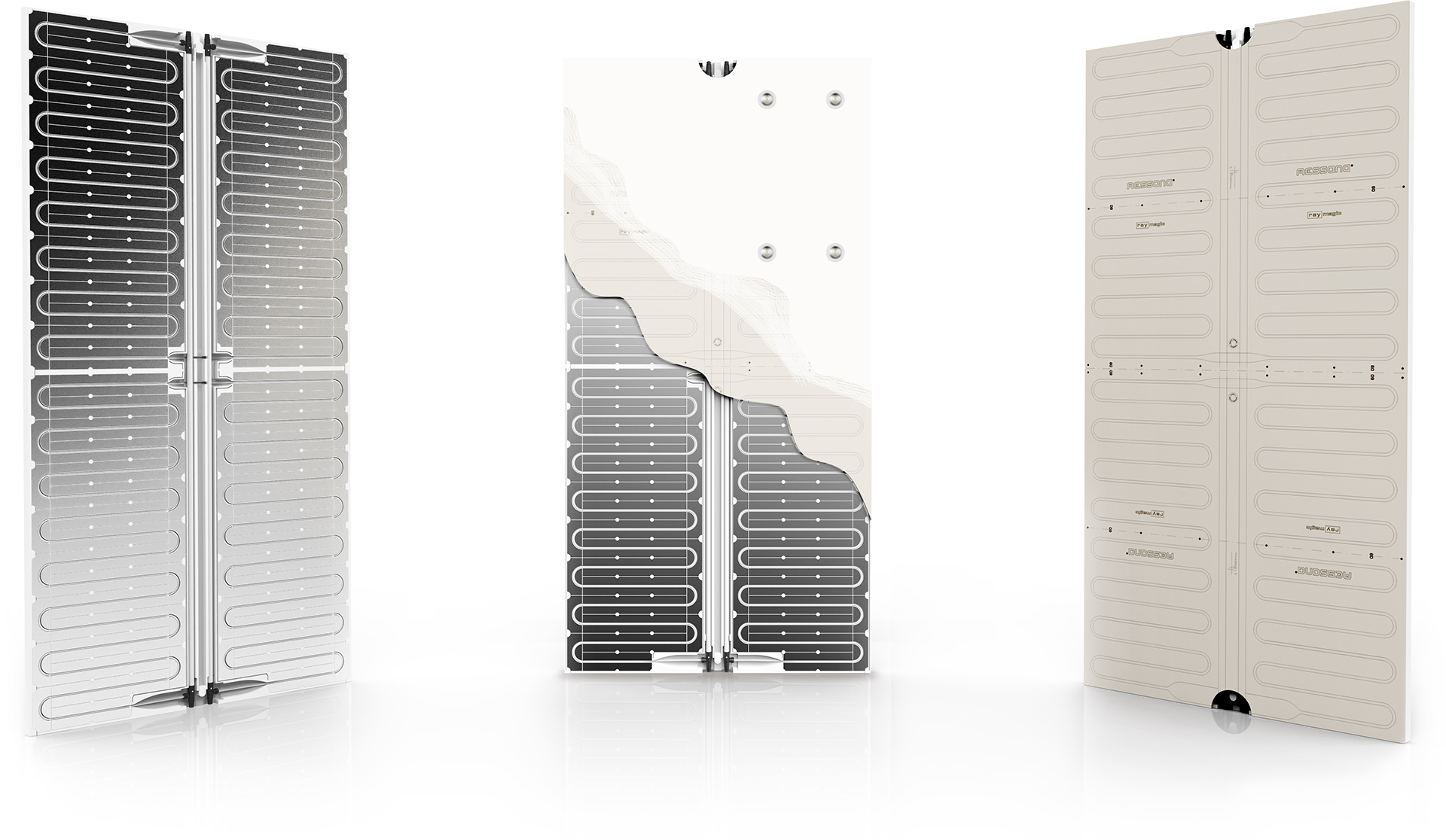 Different types of gypsum boards available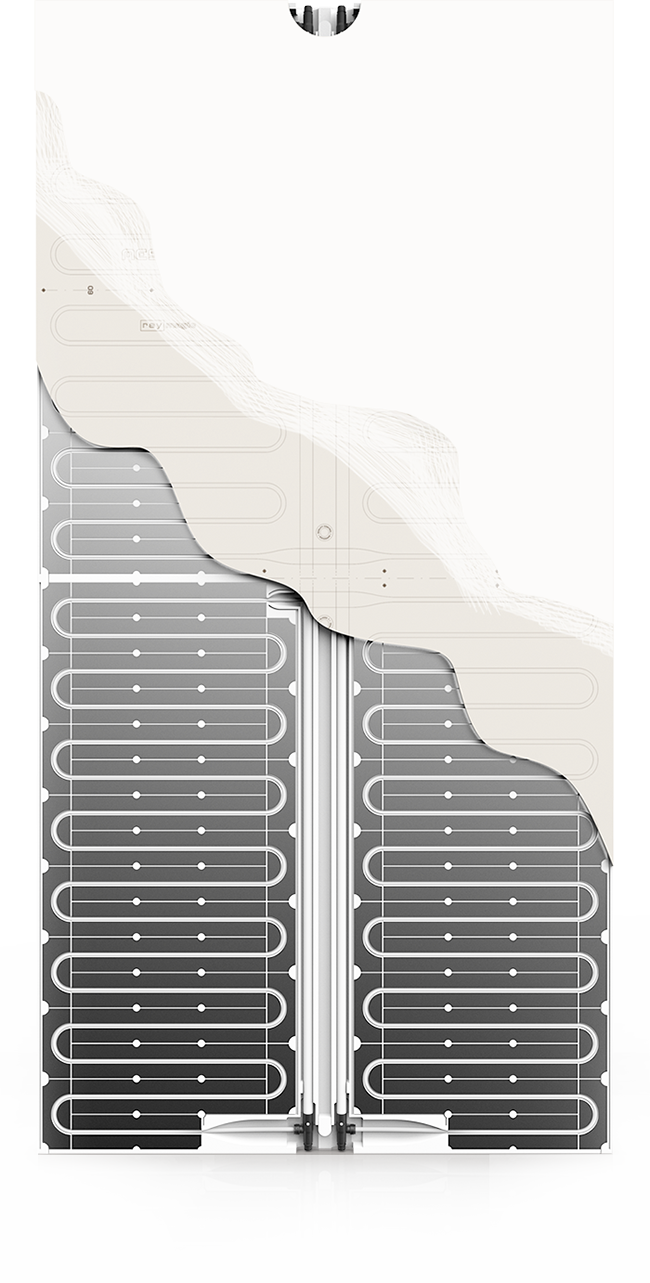 In order to offer always the proper finishing for each application, Ray Magic radiant panels can be supplied with different types of gypsum boards.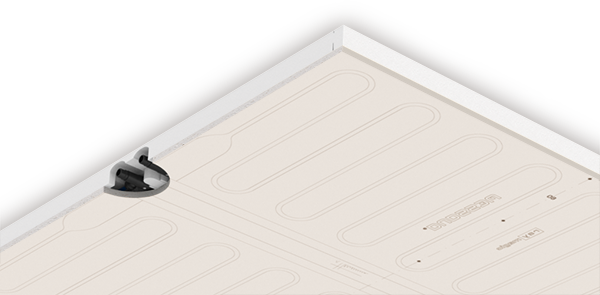 Standard
1/2″ gypsum board with AirRenew gypsum panel (4'x8′).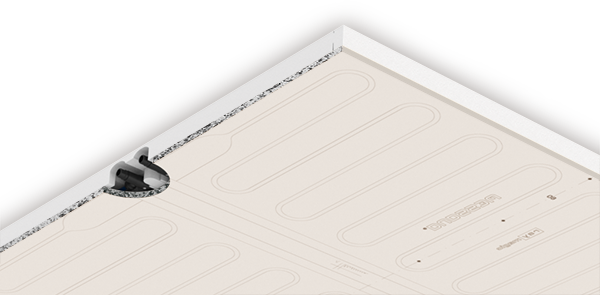 Graphite
10 mm Climafit board. Graphite (Ecophit) added gypsum board (1200mm x 2400mm) with high thermal conductivity to increase performance.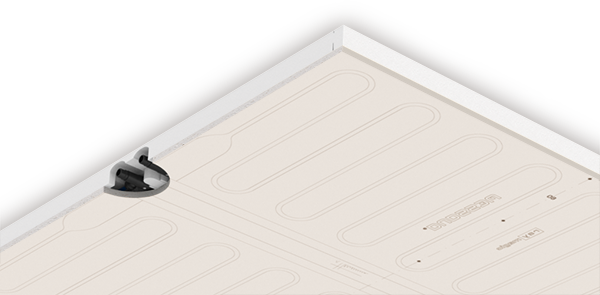 5/8″
5/8″ gypsum boards with AirRenew (4'x8′).
Gyptone
10mm sound absorption Gyptone perforated gypsum panels (1200mm x 2400mm). Broad spectrum of patterns available.
All gypsum boards utilized with any Messana radiant panels, are manufactured by Saint-Gobain.
All Ray Magic gypsum panels (except for Graphite) feature AirRenewTM technology and are Low VOC compliant (independently tested and certified by Berkeley Labs).
AirRenewTM permanently converts VOCs (volatile organic compounds) into safe, inert compounds. For more information visit www.certainteed.com/airrenew.
For high cooling capacity, Ray Magic radiant panels can be finished with Graphite (Ecophit) gypsum board to increase the radiant performance up to 20%.
For commercial applications with acoustical performance requirements (e.g. offices, schools, hospitals), Ray Magic panels can be finished with Gyptone perforated acoustical panels, with a broad spectrum of patterns. For more information visit www.gyptone.com.
Piping Layout outline to help hanging the radiant panel

Ray Magic radiant panel is a pre-fab sandwich assembly with embedded hydronic circuit system. The panel is finished with a paper-faced gypsum board (different choices available).
On the gypsum face side is laser engraved the piping footprint.
The laser mark is well noticeable and allows hanging the panel without the risk of hitting the pipe with screws.
After the installation the marks will be covered with a coat of paint.
Additionally there is also a 16 o.c. and 24 o.c  screw template.
One radiant panel, Four different sizes
Ray Magic radiant ceiling panels can be cut in half, lengthwise and widthwise, into sub-panels to better cover smaller areas and fulfill almost any building requirement.
Cutting the panel is as simple as cutting drywall.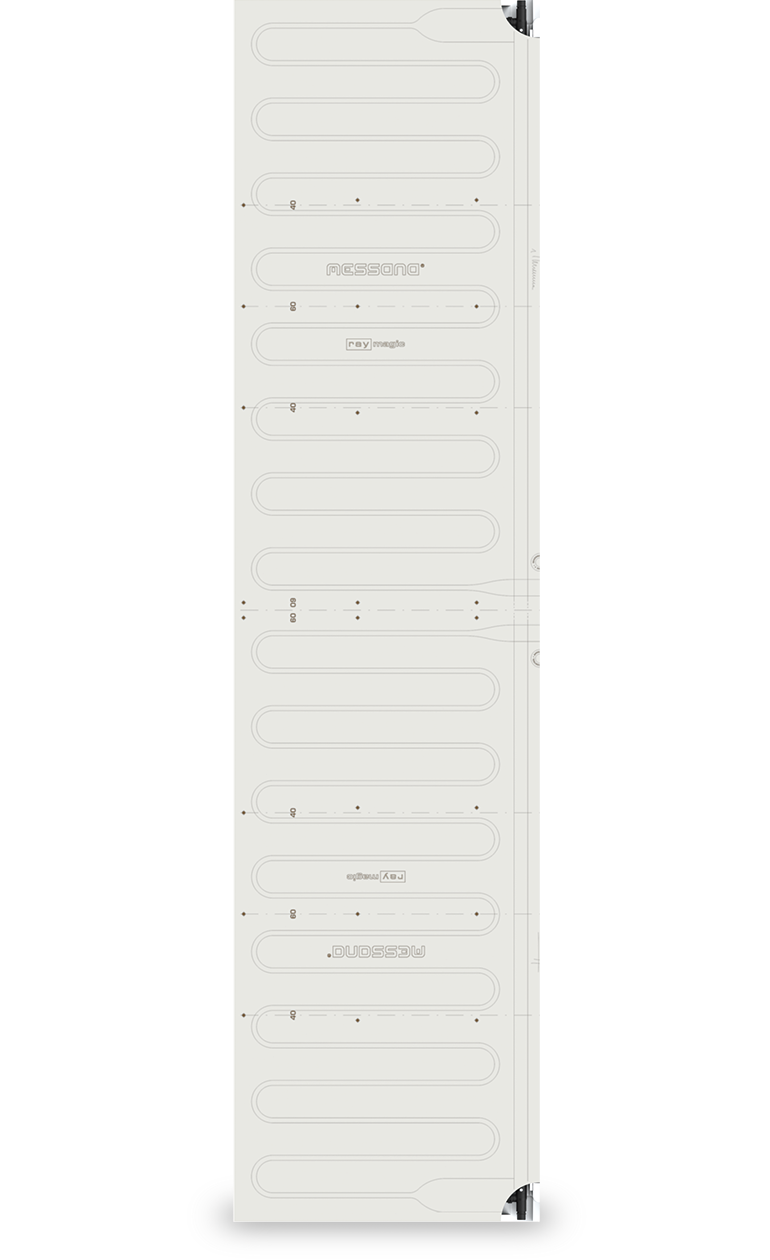 1/2 panel left lenghtwise cut (2 x 8 ft)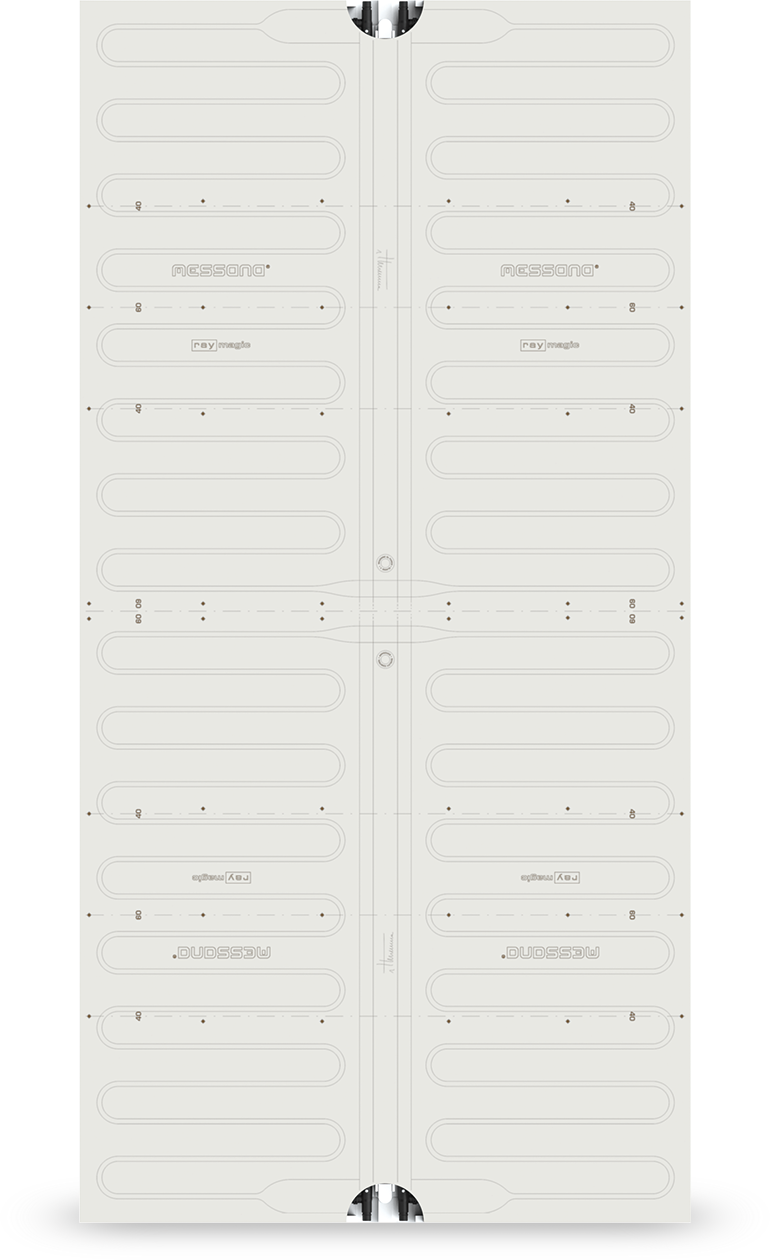 full panel (4 x 8 ft)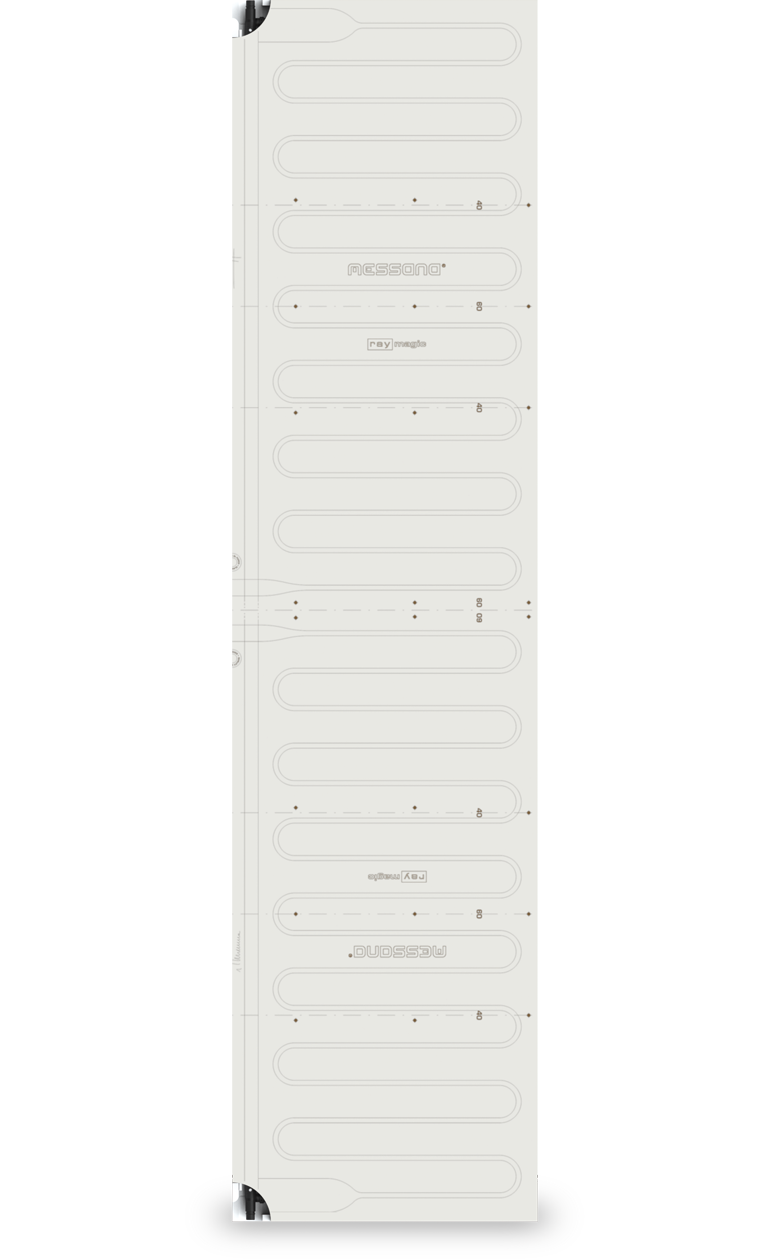 1/2 panel right lenghtwise cut (2 x 8 ft)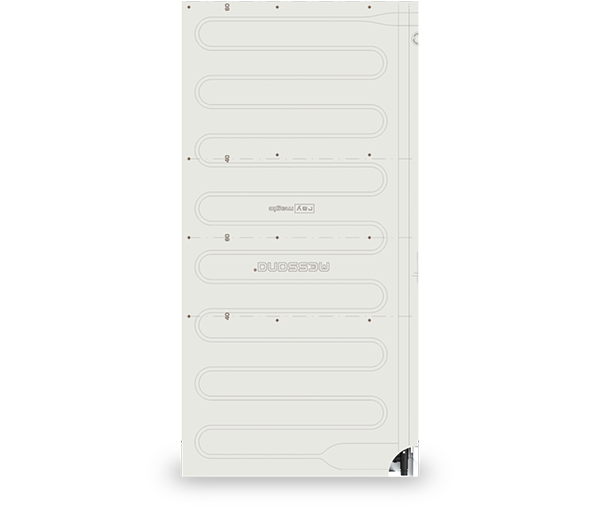 1/4 panel left (2 x 4 ft)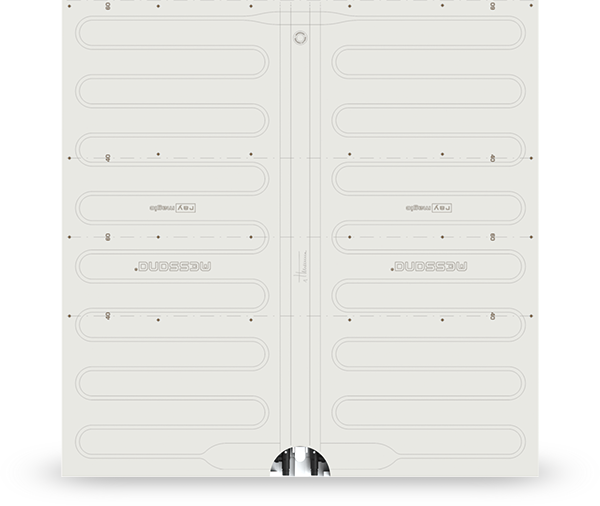 1/2 panel widthwise cut (4 x 4 ft)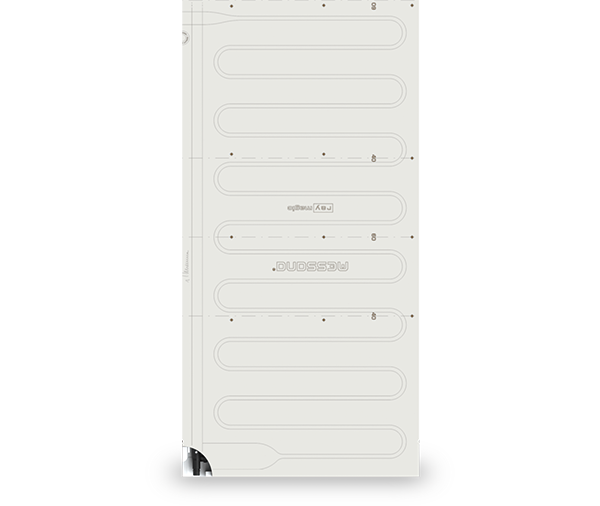 1/4 panel right (2 x 4 ft)
Increased R-value and better sound insulation
The EPS insulation prevents back loss and the Ray Magic radiant panel does not require additional insulation. However, added insulation between the ceiling joists increases the overall system performance.
1½" EPS board, added to the interior side of the framing, allows for better control of interior environment: maximized insulation (R-value 9.65) and minimized sound transmission. With a STC sound rating of 40, Ray Magic radiant panel itself provides more sound insulation than a 4" exterior wall which provides only a 34 STC sound rating (wood framing with fiberglass batt insulation).
EPS is also resistant to insects, including termites, is stable and retains its physical proprieties over time. EPS is 100% recyclable.

Expanded Polystyrene (EPS) insulation
R value: 9.65
Thickness: 1 ½"
Density: (Type IX) 1.82 lbs/ft3
STC sound rating: 40
Surface flame (ASTM E84): Class A
Flame spread index: 5
Smoke developed index: 35
Tests: ASTM E84, C578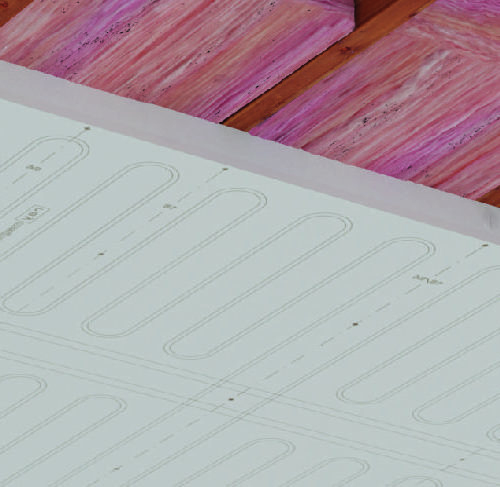 Infrared view of a Ray Magic radiant ceiling
The IR picture shows three series of seven Ray Magic radiant panels supplied at one end and capped off at the opposite end.

The the uniform color of the panels show an even distribution of heat over the entire length of the circuit. However, the left side of the series of panels that is hotter (yellower), is the supply side. The right side that is a bit warmer (orange), is the return.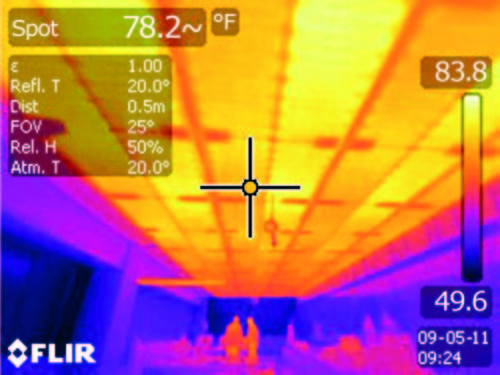 Blank filler panel to match Ray Magic
Useful to fill any remaining gaps in the ceiling after the installation of Ray Magic active panels.
Practical to accommodate for recessed lights, sprinkles, fans, speakers and other ceiling features.
Prefabricated 4'x8′ panel assembly consisting of 1 1/2" thick EPS substrate laminated with gypsum board (different options available to match the same finishing of the active Ray Magic panels).

Radiant panel with embedded backbone lines
Self balancing and easy to purge air
Each Ray Magic radiant panel features two independent hydronic circuits connected in parallel to the opposite ends of the internal supply and return backbone lines. The two circuits are symmetrical and cross under the backbone pipes in the center of the radiant panel.
The connection of the leader lines or to other Ray Magic panels can be made on each ends of the backbone lines at the oppose side of the radiant panel.
The fact that the radiant panel circuits are in parallel, and made of substantially smaller size pipe compared to the supply and return line , ensures an excellent hydronic self-balancing and an optimum thermal distribution.