RAY MAGIC
As simple as drinking a glass of water.
Anatomy of the Ray Magic radiant panel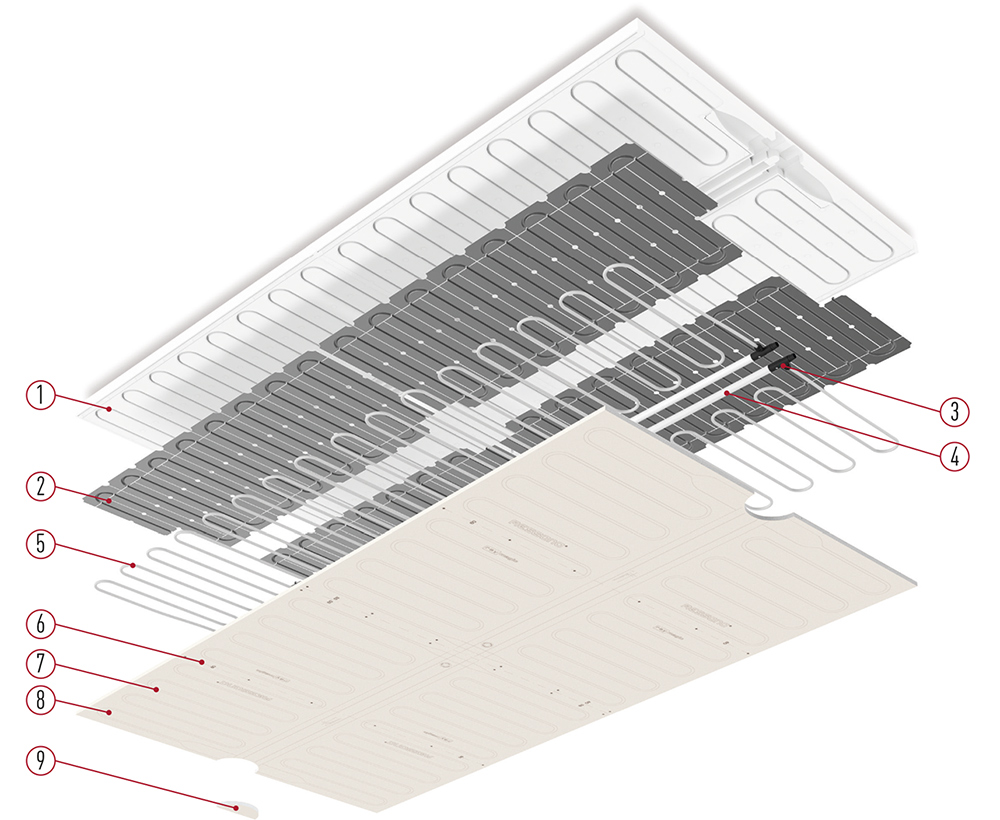 Ray Magic is a pre-fab sandwich assembly with embedded hydronic circuit (patent pending).
The panel assembly consists of a 11⁄2" thick pre-formed EPS board (1) and a gypsum panel (6) bonded together.
In between the two is the radiant transfer system consisting of 18 gauge (0.05") aluminum heat transfer plates (2) with snap channels holding the radiant tubing (5).
There are two symmetrical radiant serpentine circuits. Each circuit is connected to return and supply lines (4) that run along the length of the panel (the backbone of the fluid distribution).
Connections are made at the two opposite terminals of the backbone supply and return lines with a three-way coupling adapter (3).
On the surface of the gypsum board are laser engraved piping footprint (7) and screw template (8).
To access the connection, a semicircular cut is performed into the gypsum panel. Semicircular drywall patches (9) are supplied with the panel.


1. Pre-formed EPS substrate
2. Aluminum heat transfer plates
3. Three way snap-in fittings
4. 5/8" Pex-Al-Pex sliding backbones
5. Radiant tubing with two embedded hydronic circuits
6. Gypsum board with AirRenewTM technology
7. Tubing footprint laser engraved (ink free)
8. 16"/24" O.C. fastening template
9. Gypsum semicircle cutout

Inside the panel, high quality components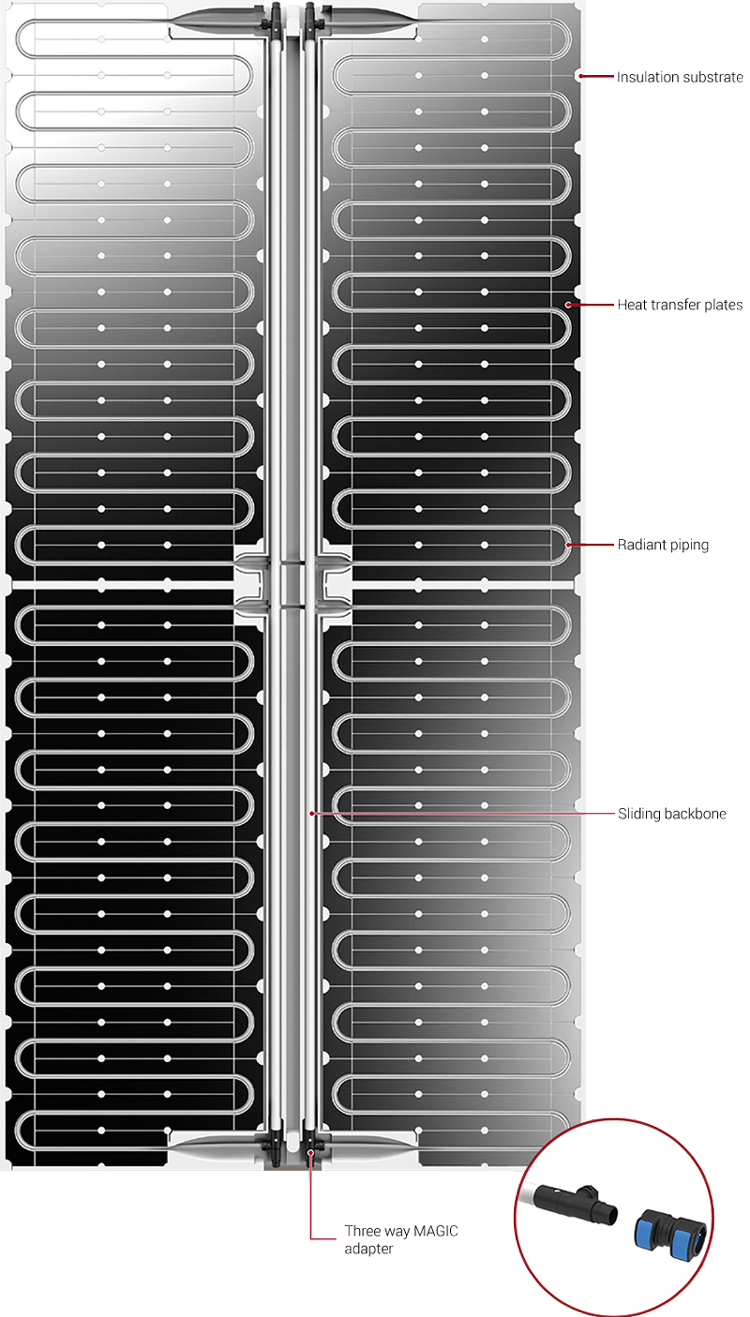 Insulation substrate
1½" EPS board ASTM E84 (Class A rated)
Preformed to host the heat transfer plates.
Test: ASTM C578
R-value: 9.65
Density: 1.82 lbs/ft3 (Type IX)

Heat transfer plates
18 gauge (0.05") sheet metal pressed in "omega" shaped channel. This increases the surface of contact improving the heat conduction between the pipe and the aluminum plate for superior heat transfer.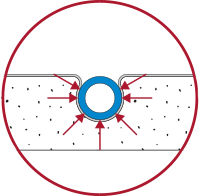 Radiant piping
8mm (5/16") O.D. Dowlex PERT radiant tubing with EVOH oxygen barrier inserted into the snap channels. Snapped into the heat transfer plates channels are two symmetrical serpentine circuits (60ft long each).

Sliding backbone lines
Pre-insulated 5/8" Pex-Al-Pex sliding backbone supply and return lines. The supply and return lines are embedded in a pre-formed channel in the EPS substrate that allows moving in and out.
Three-way MAGIC adapter
Each backbone line is terminated with a with a three-way coupling adapter for the internal connection of the radiant piping to the backbone line and to allow the quick and easy interconnection between adjacent panels through the revolutionary snap-in Magic adapter.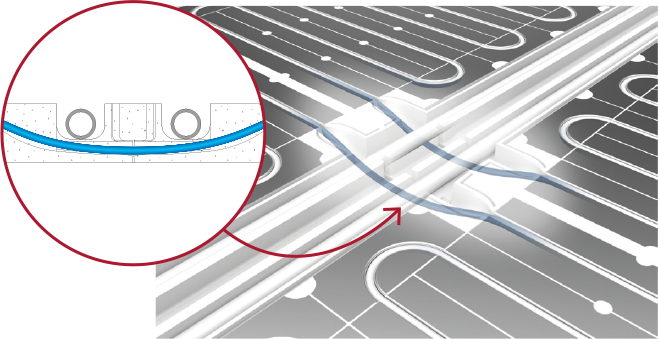 The secret of modularity
Central crossing point between the backbone lines and the hydronic circuits.
This special design is fundamental to allow the cut of the panel along its axis of symmetry into sub-modular panels (4'x4', 2'x8' and 2'x4').