Questions & Answers with Michael Murphy and Carlos Zamora, East Coast Sales Director for Messana Radiant Cooling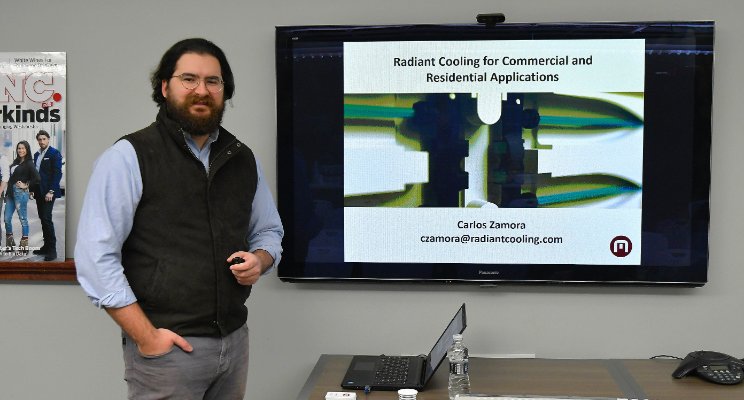 Carlos recently participated in Murphy Brothers Contracting's monthly CE series for local building design professionals, presenting "Radiant Cooling and Heating: Ultimate Comfort Delivered from the Ceiling", introducing this European technology to the East Coast.
We asked Carlos to elaborate further on the benefits of radiant cooling and the challenges that Messana has overcome to develop an effective alternative to forced air.
Q: What is radiant cooling and how does your system utilize it?
A: Radiant cooling is a phenomenon where lighter "hotter" energy moves to denser "cooler" energy. An example of this would be in an unfinished basement where the walls are cooler than yourself. You are cooled in that basement not because of any moving air, but because your body is releasing energy to the cold surfaces. We use this same principal, but in a much more controlled environment. We utilize this principal by cooling the surface of our gypsum panel using cool water and absorbing the hot energy in the space. In heating we do the opposite.
Q:  How do you avoid condensation in cooling?
A: There are a number of safety features built into our controls. The first being our room sensor that is required in each space. This allows us to monitor changes in humidity within the structure. We can also change the surface temperature of our panels so quickly because of the low thermal mass of gypsum allowing us to always stay 2°F away from dew-point. Also, depending on the climate, we specify one of our dehumidification units to remove that humidity that enters the space.
Q: What is better suited for your system? Commercial or Residential?
A: Surprisingly both have great applications for our system. We have found great fits for our system in hospitals, multifamily apartments, higher education, office spaces. In residential we have worked on extremely energy efficient Passive/LEED homes to the ultra high end.
Q: How many projects have you completed?
A: Since Messana's inception back in 1992 we have completed tens of thousands of installations internationally and have worked on every continent (excluding Antarctica). In the USA, we are very close to passing 500 installations in the 7 years since we started in Silicon Valley.
If your curious to learn more about Radiant Cooling and Heating, the Ultimate Comfort Delivered from the Ceiling, perhaps to determine if it's the right choice for your residential or commercial project, contact Carlos Zamora at czamora@radiantcooling.com or go to https://radiantcooling.com.
Thank you Carlos!